---
The Cotopaxi Cemetery Page
Cotopaxi Colony Gravesite
Please also see the rest of the Cotopaxi Cemetery page
---
scroll down for most recent news
click photos to enlarge
Note that this is a gentile cemetery.
Never-the-less, keep an eye out for the Mezuzah!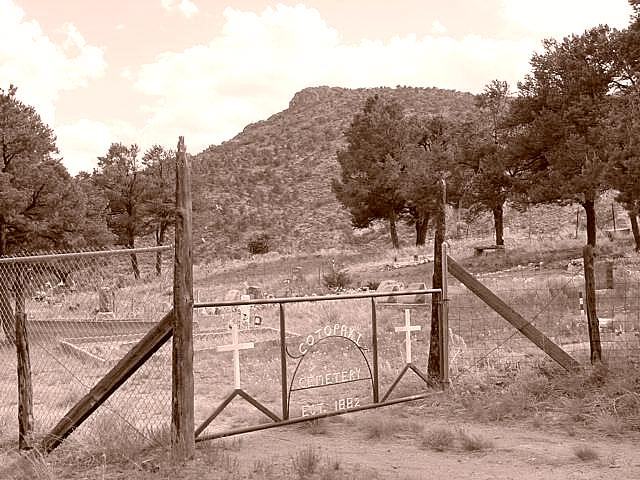 While the first burials are reported to have been Russian Jews, you must understand that the Russian Jewish colonists were only here a few years, and now there are gentile burials surrounding the Colonist's grave site. My understanding is that there was a small fence around the Colony graves until the 1980's. I've been thinking about that, and perhaps I could fabricate a metal fence around the site again.

(We have done this, see updates below) Being a gentile, I was not aware when they visited that Haim and Evan (see the descendants' page) are Kohen (Kohanim), and that they have religious restrictions concerning cemeteries.

Next is a photo of Evan and Haim just outside the Cotopaxi Cemetery.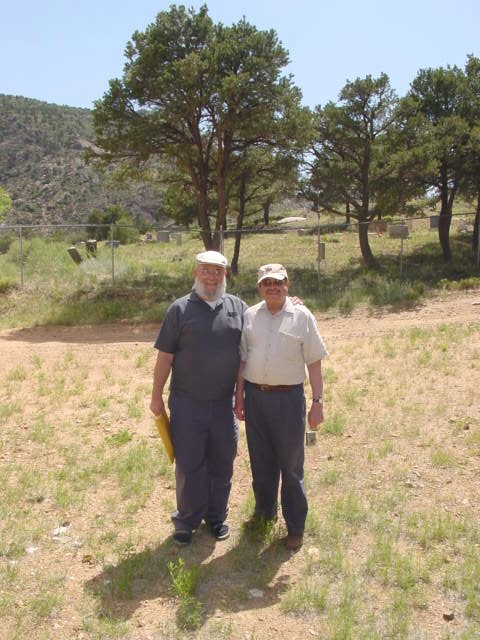 Therefore, here are some photos of the gravesite.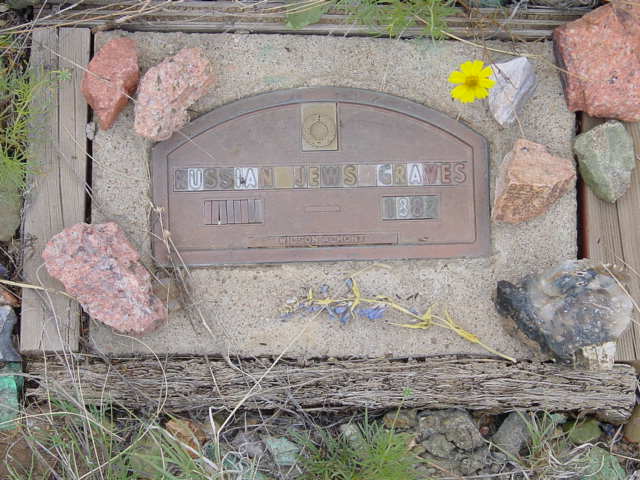 The inscription on the grave stone says "Russian Jews Graves" and "1882".
My wife and I placed additional stones around the graves around 1993 or 1994, these stones came primarily from the Cotopaxi Mine, with a few others that were locally collected.
Click on these images to enlarge
Images left and right are from about 1993-1994
November 30, 2009
A fence now separates the Cotopaxi colonist's graves
from the rest of the cemetery.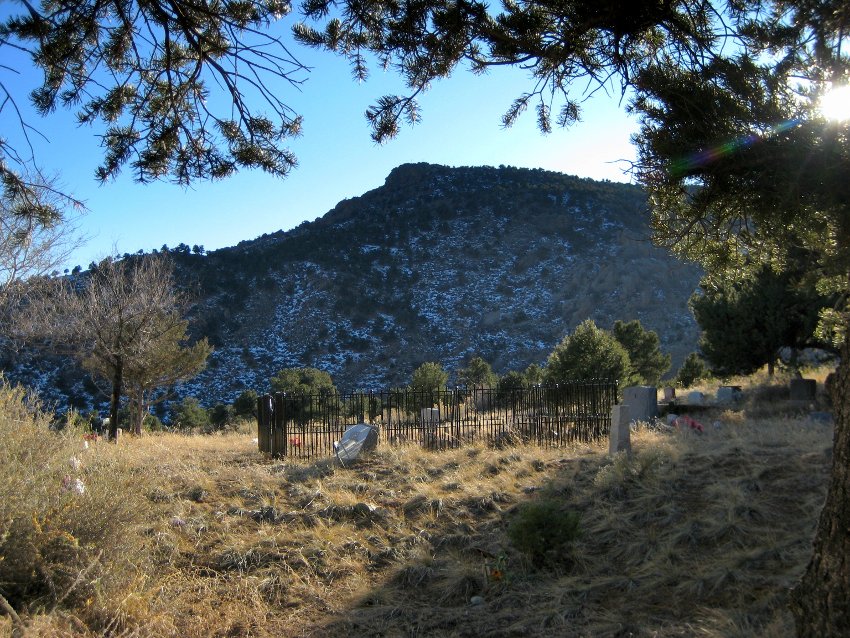 click over images for larger size
---
Below, March 14, 2010 Cruz, Rachel, Jacob & I extend the fence 4' to the east.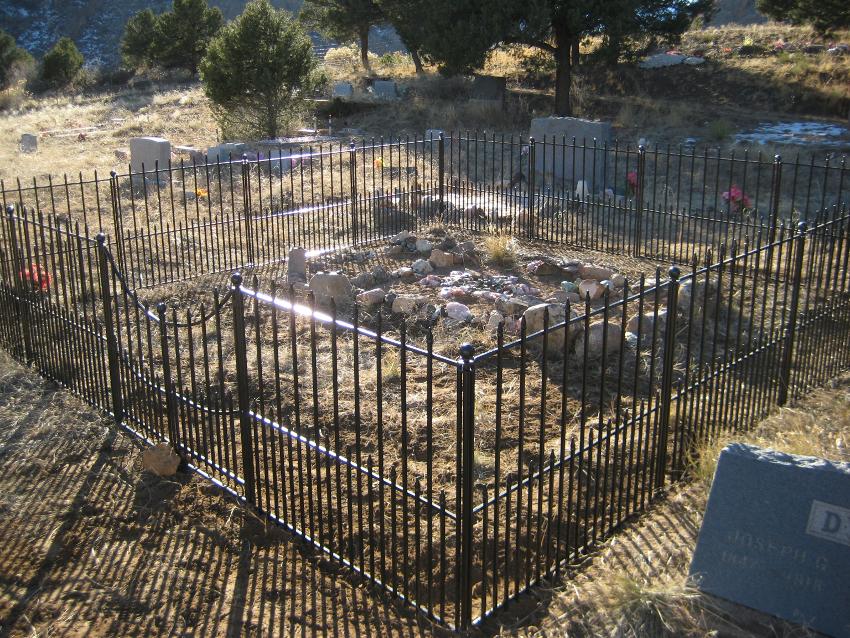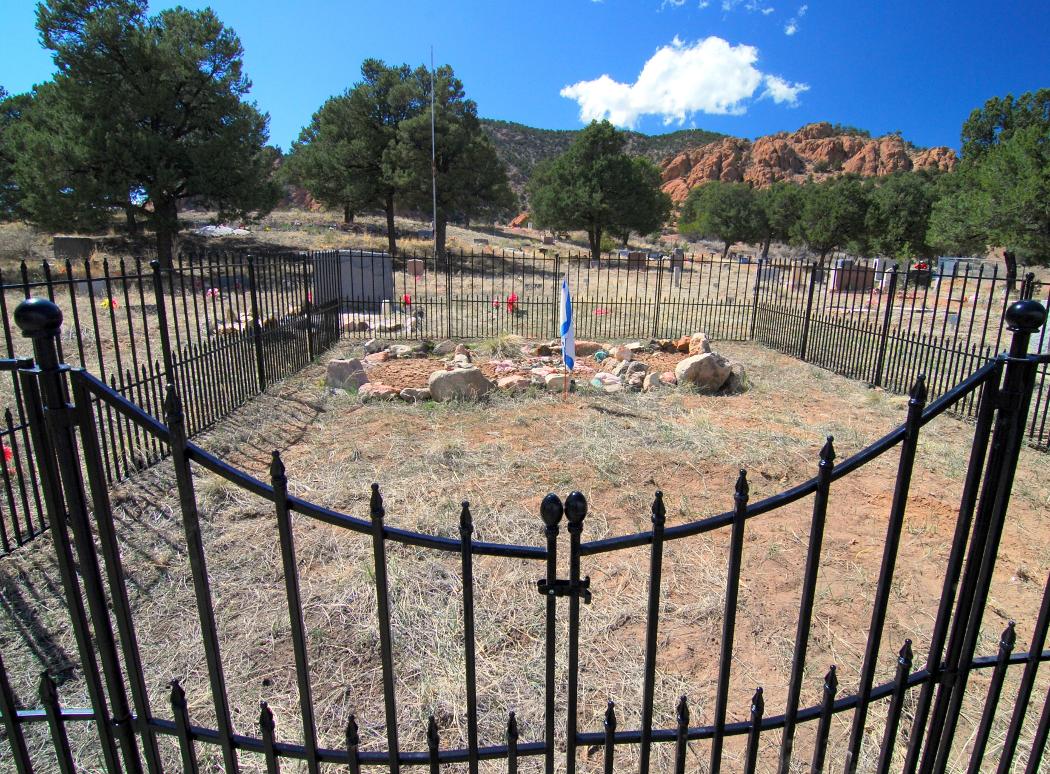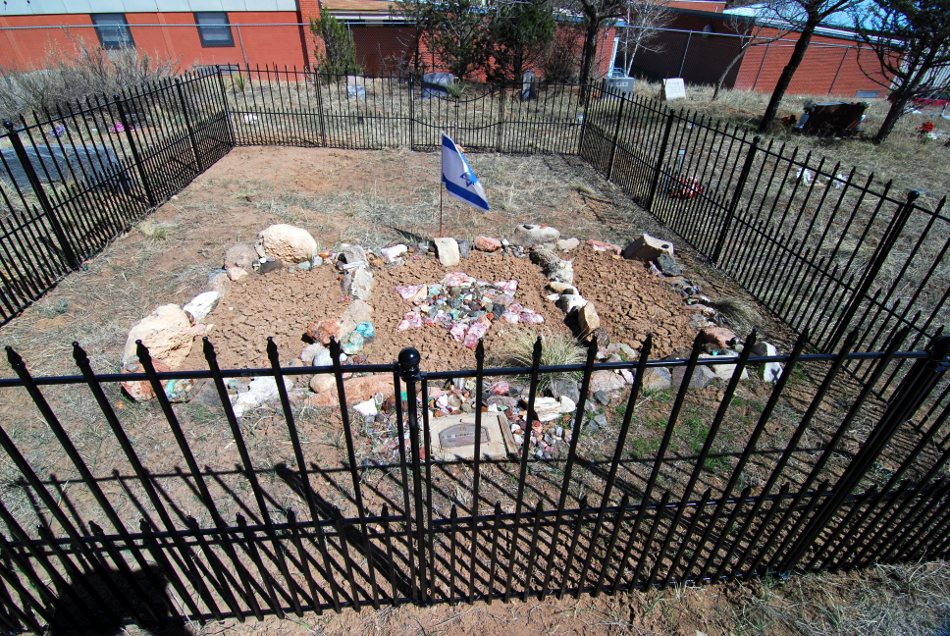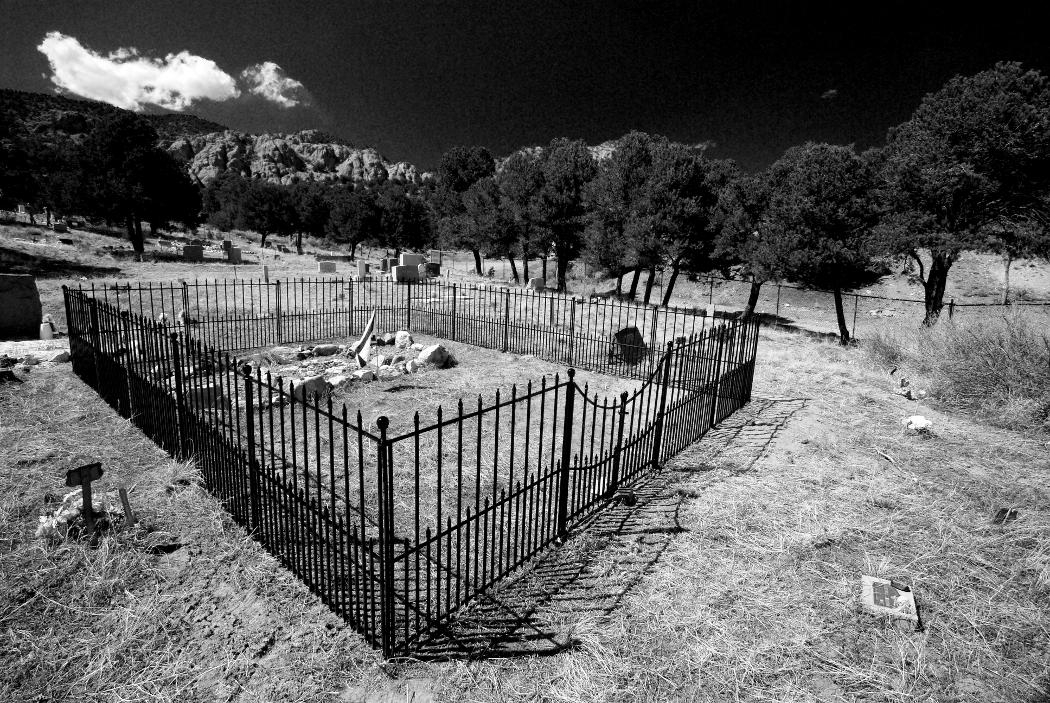 A special Thank You to
Jerry and Judy Klinger
with the
Jewish American Society For Historic Preservation (JASHP)
For Their Kind Act
of
Funding this Project.

---
Plans 2011
Tentative plans
* place a granite memorial like this one at the gravesite Done, see updates below
* and perhaps, cover the graves with stonework, like this, (except in a rectangular shape)
my back is not doing so well so we will see. Thanks for your patience.
a granite slab has been delivered to Spence Memorials in Colorado Springs. Once the proper wording is determined, this will be inscribed, then attached to a larger granite block via a metal framework. Then this can be placed at the gravesite, then a metal fence constructed around the graves.
---
Sept. 20, 2010 (posted 2/29/2010)
The etched marker setting on the granite base in our driveway. The UPS driver unloaded the marker onto the granite base! Now that's delivery!
The base if from nearby abandoned granite quarries. I obtained a permit from the BLM to acquire the granite several a few years ago and had this on my property.
The etched & polished marker came from California.- http://www.affordable-markers.com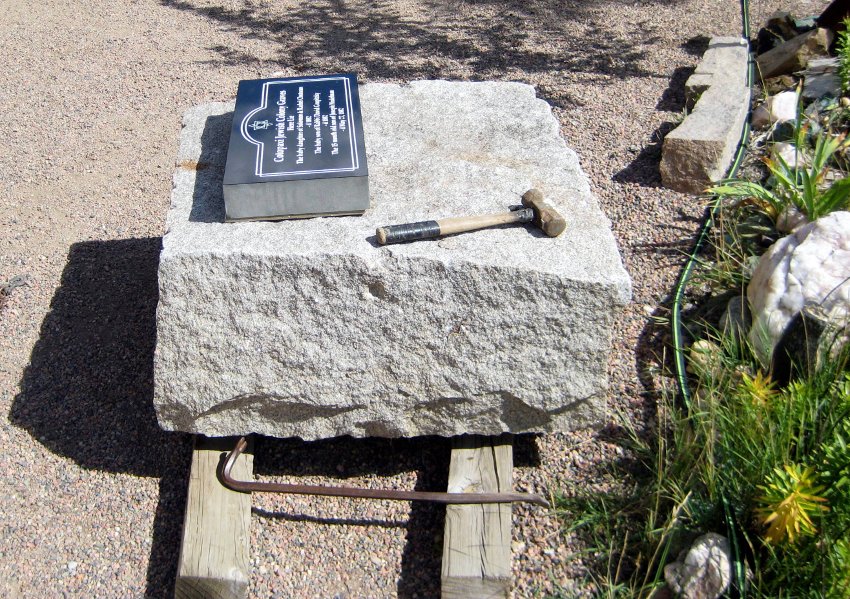 Next I will have to grind the granite base's face flat in the area the etched marker sets.
(This was accomplished via a masonry blade on my old circular saw, and with hammers & chisels!)
Then I'll attach them with mortar after the base is in place at the cemetery.
All this takes a long time with my back's condition. haha excuses excuses
---
October 31, 2010

(posted 2/29/2010)

Cruz, Rachel, Jacob help place the ground marker's granite base.

We had some decent weather and I (with lots of help) was able to set the etched marker with mortar. I have never done this before so time will tell how things go. However, I had a good instructor, my nephew Andrew Heckard. He did the joint at the memorial for the Colorado Department of Transportation in Pueblo, CO., and I watched him!
---
November 2, 2010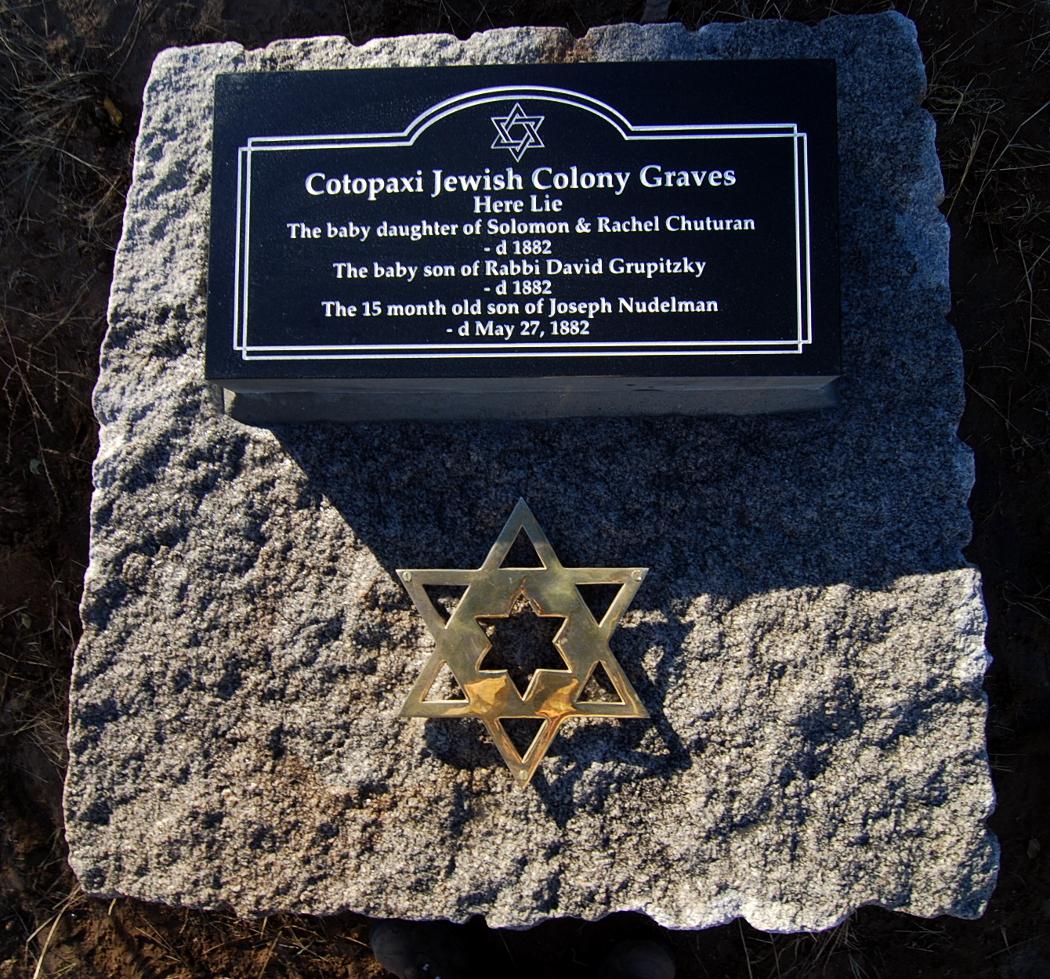 ---
Progress!

(posted 2/29/12)

February 28, 2011 - We set the new marker!

I had help from my neighbor

Jim Otis and from friends from Anshey Hashem, the Messianic shul in Canon City.

click images to increase size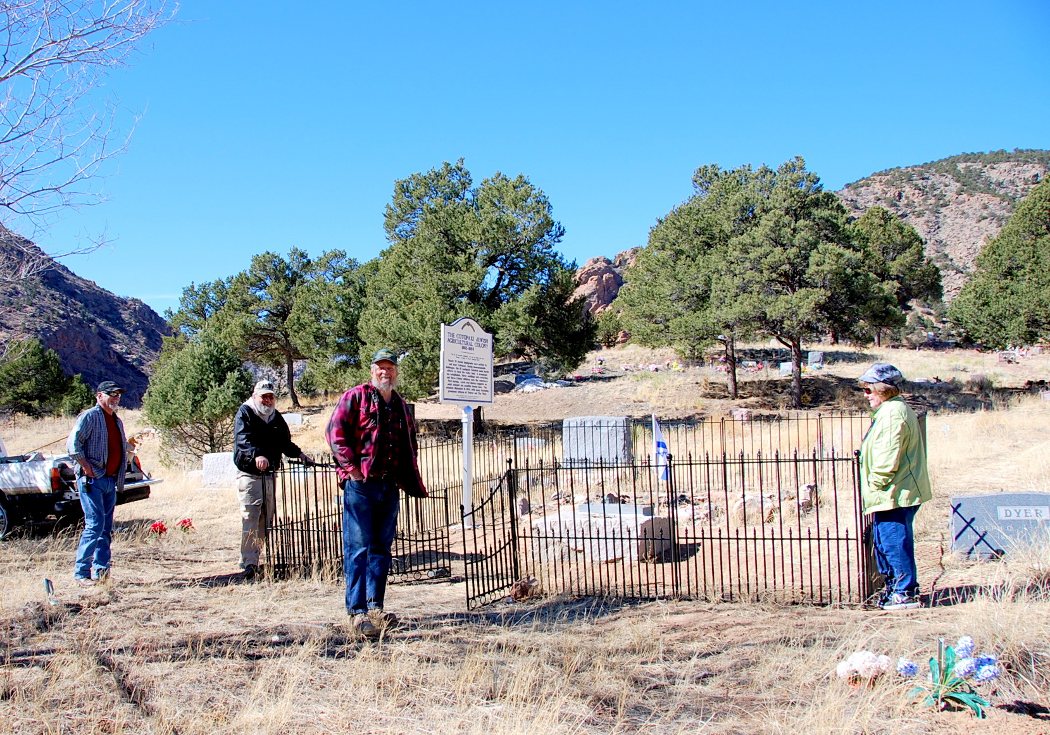 Left to Right; Jim Otis, Bob Hansen, Leonard Rothenberger, Juanita Hansen.
Thanks folks!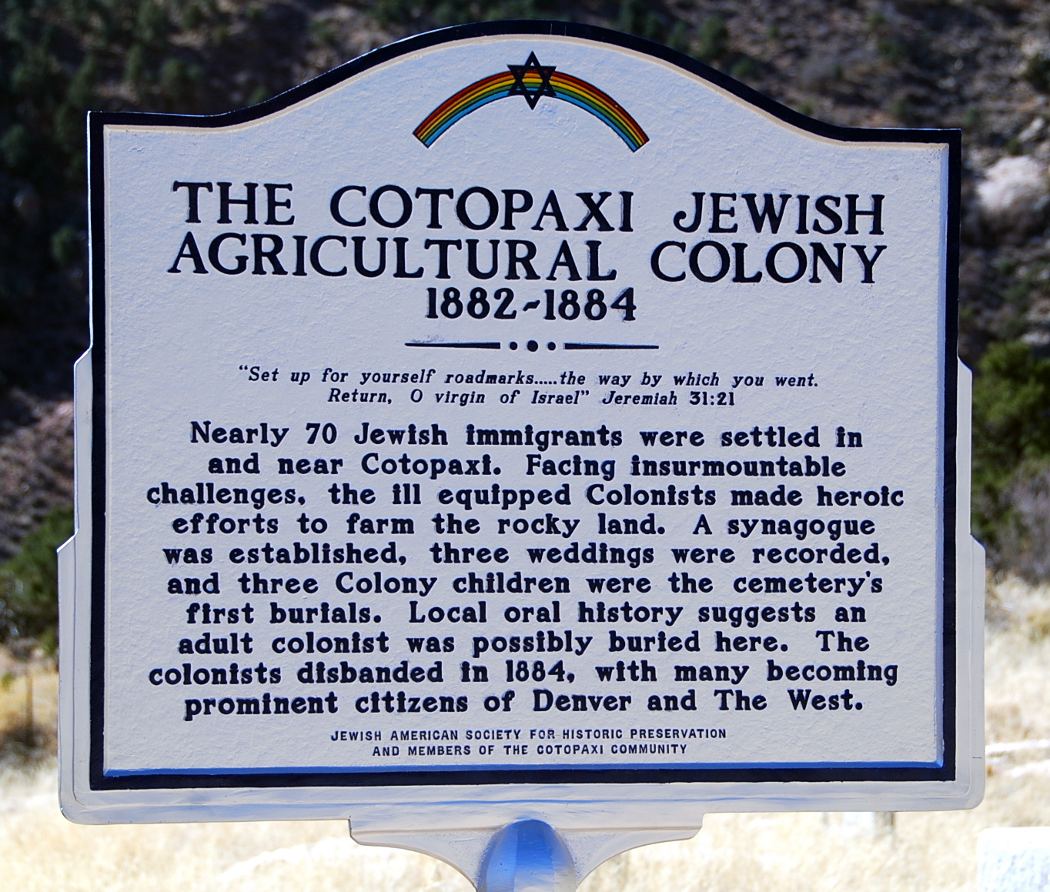 The inscription reads the same on both sides of the marker.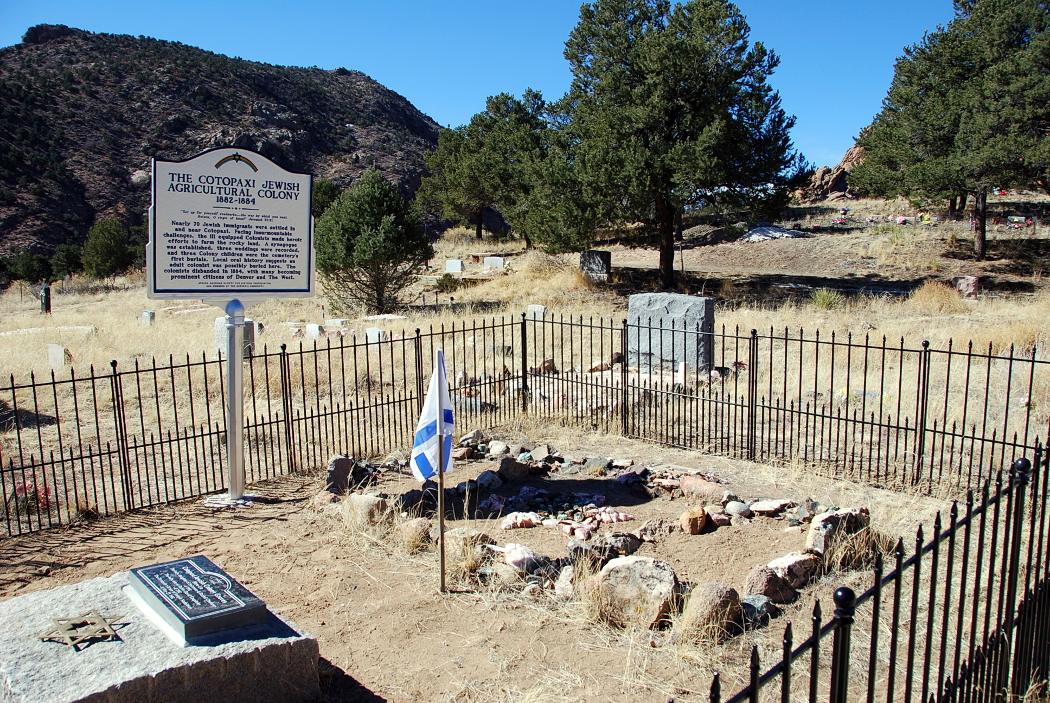 ---
The man in the background.
Jerry Klinger.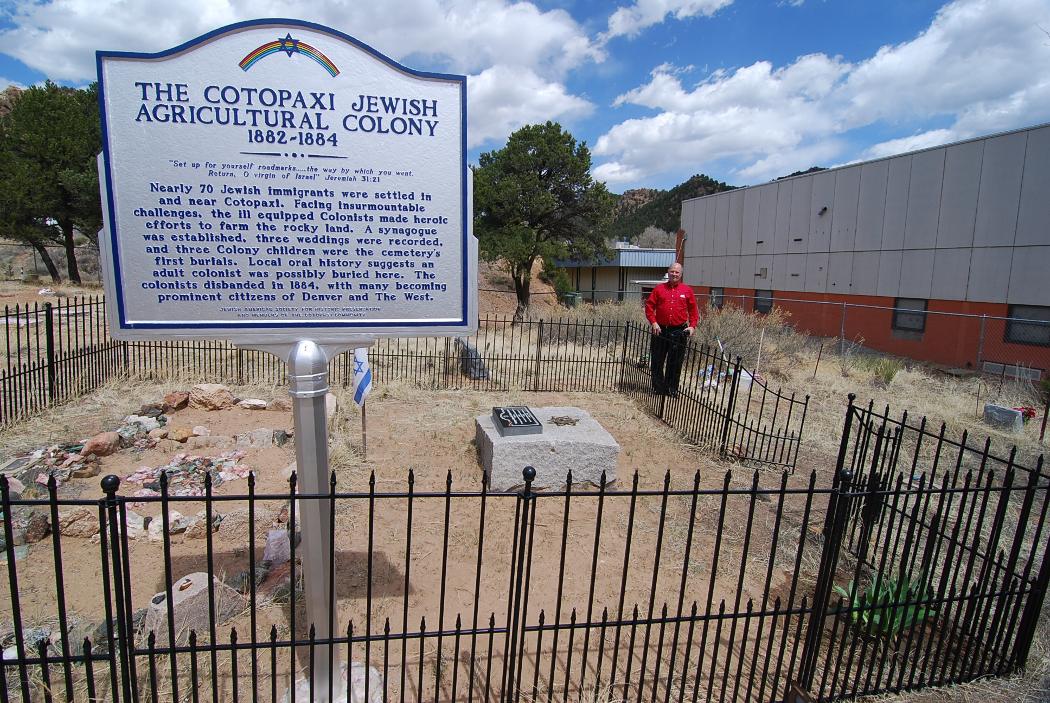 Jerry,
thank you.
---
Nov-Dec 2011
I added another gate on the west side of the Colony gravesite fence. Done!
Plans 2012 onward
I would like to pave the area with flagstone or something similar at some time to help with week control.
---
update!
Menorah donated by Rothenberger family!
Leonard & Marilyn Rothenberger donated a menorah to the Colony Gravesite!
Leonard, a metal fabricator extraordinaire, designed and built this menorah that has solar powered light AND interchangeable oil lamps! Leonard and I poured the concrete base on August 18, 2012 and set the menorah on Sept 13, 2013.
Here's a photo of Leanard attaching the Menorah to the base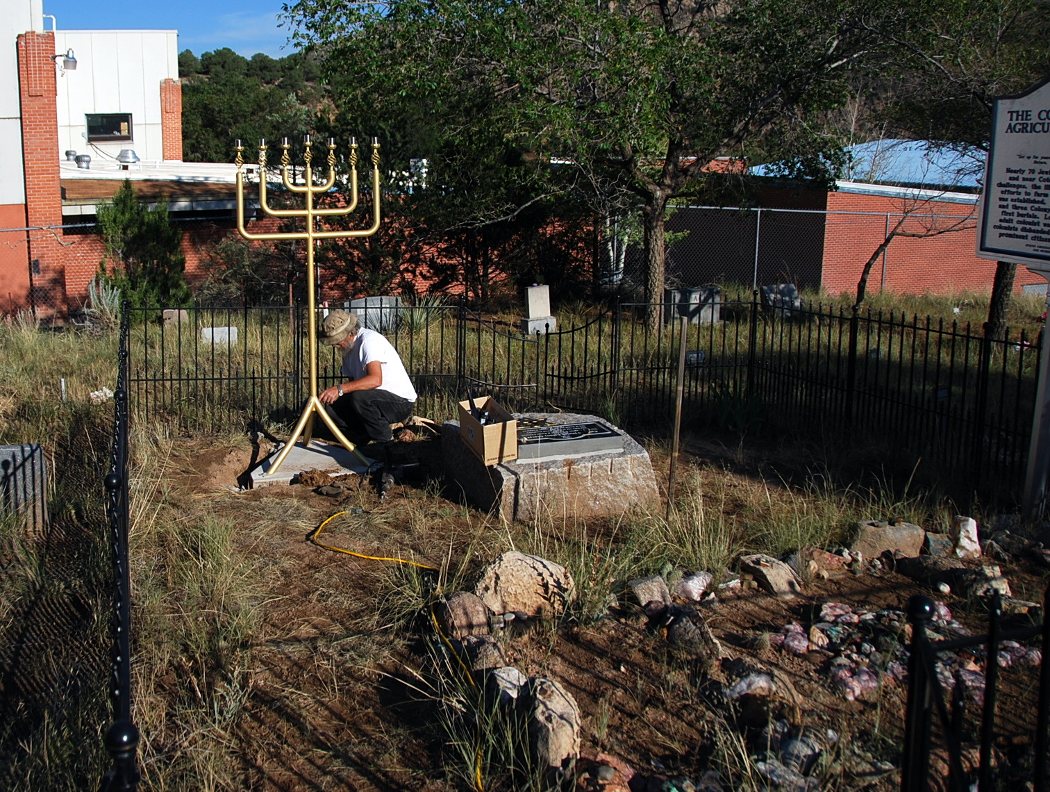 Leonard also donated a similar menorah to a synagogue in Canon City, Colorado.
Marylyn passed on shortly after this.
and we said good-bye, for now.....
Cotopaxi Colony Gravesite, May 18, 2016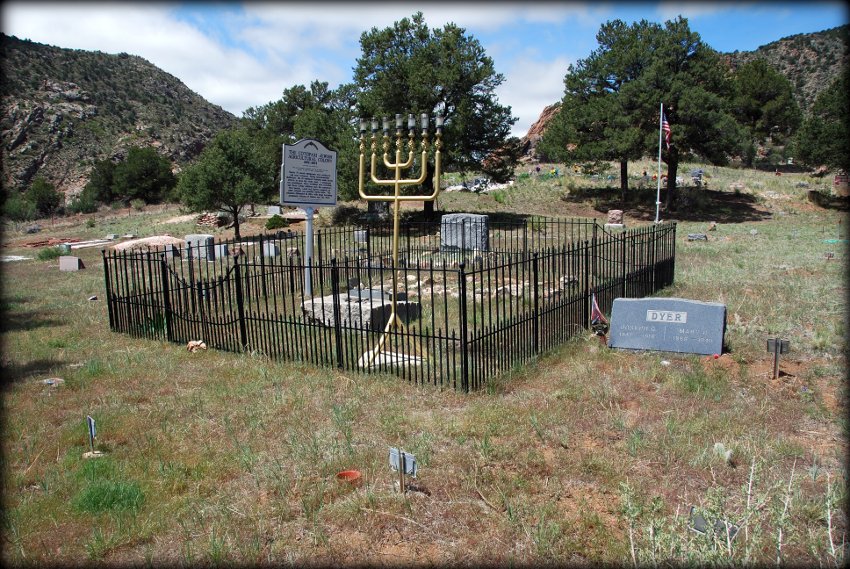 click on photo for a larger version
---
Cemetery Notes:
Photo: an old crib in an old shed in Cotopaxi...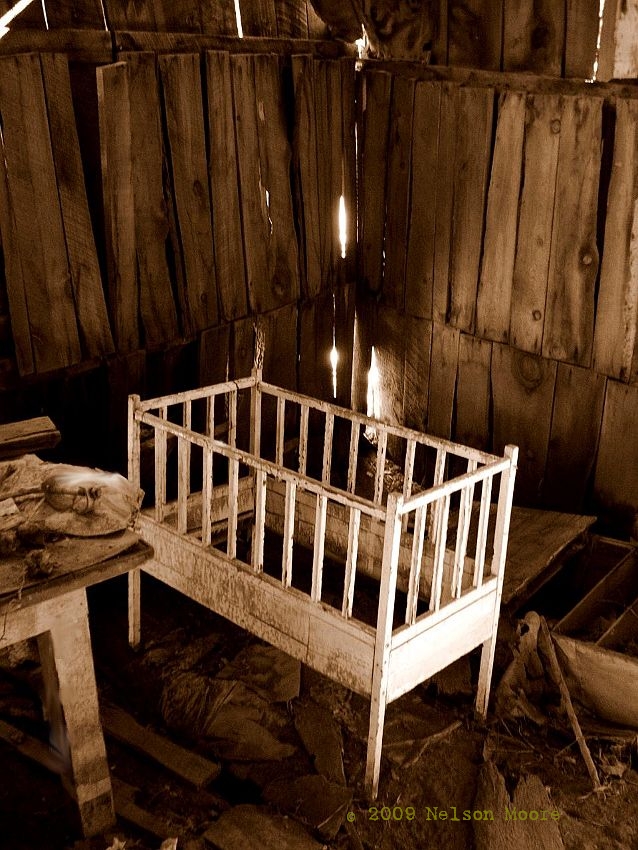 An issue is the number of graves and the age of the deceased. Some say three, some say four persons. Some say all babies, some indicate an older youth, some say one adult also buried here.
There are four grave spaces at the Russian Jews grave site at the Cotopaxi cemetery.
Through various references, three graves can be verified.
AS of Sept 2009, I THINK the graves represent:
Russian Jews - B6-212 source: Cemetery record
Shuteran/Chuteran baby girl, --B7-212 source: Cemetery record
Korpitsky/Grupitsky, baby son --B7-213 source: Cemetery record
Needleman/Nudelman baby - ? Source: referenced in letter from Swartz to HIAS
UNKNOWN B7-214 (Nudelman?)
: Dec 2009 -
In the document titled Report of Mr. Julius Schwarz on the colony of Russian refuges at Cotopaxi, Colorado, established by the Hebrew Emigrant Aid Society of the United states. 1882. page 5,
Dated October 23, 1882
"On the 27th of May, the fifteen months old child of Joseph Nudelman, died,"
It has come to our attention that the B7, B6 numbering system lacks accuracy.
It is difficult to make sense of order of the cemetery from online records.
However, the cemetery is laid out in fair order. However, even on site it takes awhile
to realize this order due to the varying slopes and vegetation.
There are four grave spaces at the Russian Jews grave site at the Cotopaxi cemetery.
These are recognized by cemetery records.
There are four vacant/unused burial sites just to the east of the Russian Jew's graves.
These four vacant sites were donated by Tom Young/Cotopaxi Cemetery Assn. and are now enclosed within the fenced area.
Not all information can be easily shared.
---
Carol McNew has a record of the Cotopaxi cemetery burials.
"The first burials were Russian Jews in 1882..."
Carol McNew has also created an
Index of burials in the Cotopaxi Cemetery developed
from the cemetery record and transcribed headstones.